Twilight recap and mini review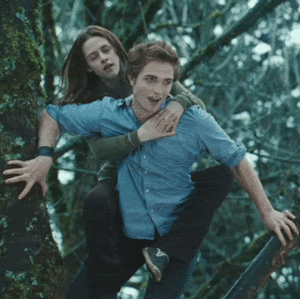 That's right, I'm tackling it. The mother of all teenage self insertion young adult novels. Twilight.
Let's get cracking.
***
The novel begins with Bella Swan passive aggressively moving to live with her dad, Charlie, in the sodden butthole of the world, Forks. She's sad and annoyed with this change, but suffers silently because she's vying for martyrdom.
She arrives and Bella is instantly the most attractive person in the school. All the boys want her and the other girls hate her. But what's so attractive about her is that she doesn't know that she's beautiful. Because knowing your own self-worth is bad news, I guess? Anyway, I've never read a book where so little happens in so many pages. The start of this book is as interesting and nuanced as its main character. The only interesting thing that happens is that Edward is a total jerk to her for no reason.
But then a car crash happens and Bella is shoved out of its way by Edward and she sees his superhuman strength and speed and comes to the only possible logical conclusion.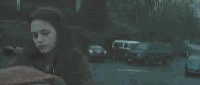 Oopsadaisy. Watch out for the van.
Edward Dark'ness Dementia Raven Way is a vampire! Oh noes.
Bella (being the intelligent, independent girl that she is) does some googling to back up her theory. But she needs more proof than Wikipedia, so she drives a couple of hours to a book store and after almost getting gang raped in Port Angeles (seriously, Stephanie, what even?) she finally gets to go on a date with Edward! Squee.
Edward, after saving her from the rapists, takes her to dinner because he stalked her across hundreds of miles and it's only polite. Edward is of course so sexy that the waitress won't stop hitting on him, but he only has eyes for Bella. Le swoon. She has mushroom ravioli and two glasses of coke. It's beautiful.
Edward tells her he can read minds. Edward can't read her mind though, cuz she's spesh. Either that or her thoughts are absent. Who even knows. He also tells her that he has to fight himself not to kill her because her blood is like heroin to him. Actual quote. Also he loves her. She kinda shrugs off the death thing because he's hot and she's into him.
"You are exactly my brand of heroin."
Edward Cullen – sexy and cavalier about Bella's Death
Edward brings her home to meet his family, Esme and Carlyle, his adoptive vamp parents and his weird pseudo-incestuous, one dimensional siblings. Edward is moody. Alice is weird. Esme and Carlyle are blandly parental. Rosalie is a bitch. Emmett is dumb. Jasper is strange. Bella is nervous. It all goes pretty much as expected. They end up playing baseball for some reason. I dunno man, I never said this book made sense.
Just doing baseball things.
Now for some plot, right up in your face. New vampires! In town! Oh my! So basically, these dudes roll up, red eyed and wild, wanting to play baseball with the Cullens – for real. They then smell Bella with them and it's on like Donkey Kong. Apparently she's tasty to other vampires too.
Edward reads the leader's mind and apparently he's got a raging hard on for the thought of killing Bella right under the Cullens' collective noses. He's a tracker. Cuz hey, why not?
A family meeting happens. Edward is moody. Alice is weird. Esme and Carlyle are blandly parental. Rosalie is a bitch. Emmett is dumb. Jasper is strange. Bella is guilt-ridden. Argue, argue, argue. And suddenly they're off, trying to confuse this dude and keep him away from Bella.
But then James manages to draw Bella away by preying on her one weakness: her stupidity.
Creepy tracker vamp tells Blandy that he's got her mother (he doesn't) and he's totes gonna kill her dead for reals unless she comes to him right away. So she does.
He bites her and gives her a hot injection of vampire juice to turn her into a vampire.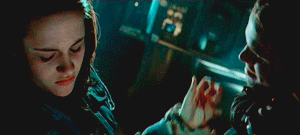 This is a romance novel.
Edward arrives and sucks the vampire juice right out of her before she gets all pointy toothed. And even though her blood is like crack, he manages to stop himself from sucking her dry like a juice box because true love.
The movie translates this scene in an interesting way. Looking good, K Stew.
The book ends with Blandy begging Squidward to turn her into a vampire so that they can be together forever. Ol' Squiddy shoots that idea down because he hates being a vampire and she can't possibly like things that he doesn't like or make her own decisions about her future.
Also, this younger dude called Jacob is there. He turns into a dog later on and has the hots for Bella (because everyone does). Finito.
***
I wish I could go back in time and read this book the way that I did in 2006 when it resonated with my girlish teen heart. I read this book when I was 17 and unironically enjoyed it because it had something to offer me. A sort of escapism into a Mary Sue that had everything that I wanted. Which is why I can't bring myself to hate it now. For all that I've written about it, I do believe that Twilight and other books targeted towards teenage girls are important.
Is Twilight flawed? Yes. Horrendously. Massively.
I could write essays on how abusive both Edward and Jacob are and how they both take Bella's agency from her at different points in time within the series. I could dissect the possessiveness and obsessiveness of both boys when dealing with Bella and how these are massive red flags outside of fiction.
Instead, I'll leave you with the only reason I have any time for this series at all. In a time when teenage girls are thought to be shallow, superficial and fickle, it's nice to see teenage girls taking the lead role in a novel that demonstrates any sort of differentiation from these stereotypes. Bella Swan may be fickle when choosing between her two love interests and she may be as interesting as televised golf tournaments, but she's not a typical "girl". And that's enough for me.