A Broadsheet critique for between the sheets
Sex and food are two of our biggest vices but flavoured condoms (or dingers if you want to use their proper name) have been considered a novelty, reserved for teenagers and the free bowls at the sexual health clinic for far too long. But I think 2017 is going to be a big year for flavoured condoms—we're taking the Masterchef era back to it's, ahem, roots. In a couple of months we'll be discussing the latest bougie dinger flavour over the water cooler, but for now we have a decent selection from Ansell to work with and I'm going to try them all. Before we get into bed together I should let you know that I'm not a certified food blogger, but I am ready to put the porn into #foodporn.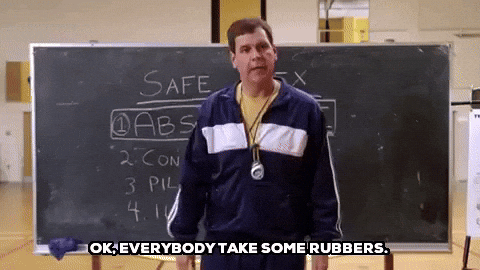 Sonic Strawberry
I started off with a classic, the vanilla of the flavoured dinger world. I mean it's a classic for a reason; the berry notes are surprisingly subtle given the punchy smell. It would be great for Valentines Day: it pairs well with roses, red wine and nineties slow jams. Choc Ripple
It's not even brown, which is puzzling, but the scent of a prepackaged chocolate mousse you get from pizza hut hits you immediately. I had my reservations but you know what, it's not bad! I'm happily chewing on it. It tastes like a Chico lolly, and I'm into it. You could even pair this with the strawberry if you felt like a double dip.
Blueberry
It doesn't have a fancy name because it definitely doesn't need one. It's the most intense one; it's almost black and super sweet and artificial tasting. The sickly fake berry scent stays with you for way too long. This one should only be used for blowing up; nobody wants this in any of their orifices. Under 18s only, pair with Passion Pop and deep regret. Mint Blitz
I feel like I'm at the dentist, it's somehow more rubbery than the others and tastes like a fluoride treatment. I persisted and it does get sweeter but mint is about as sexy as an orthodontist's office, I mean if it was menthol and had some sensation factor that might work. This guy would be a good solution for morning breath though, or if you run out of gum on the way to your next teeth cleaning.
Banana Bump
Saved this for last because I love fake banana flavour, plus it has the best name. As soon as I ripped it open it reeked of stale floury banana but that faded. It's not even yellow! Where is the colour/flavour consistency Ansell?! There was barely any taste, like a piece of gum you've been chewing on for an hour and a half. Basically a normal dinger with an essence of stale banana, use this if you're having sex with someone you hate and you want them to smell like an old schoolbag afterwards.
So until we finally get some salted caramel action, or and Adriano Zumbo spin off collection, we've got the basics—but they will certainly do. They're fun, mostly palatable plus vegan and gluten free! So next time you're tossing up between dessert and a little action swallow your pride, pick up a packet of flavoured dingers and don't look back. Eating out will never be the same.
Bon Appetit!